Welcome to our International Week!
For the past 14 years, Fachhochschule Dortmund - Dortmund University of Applied Sciences and Arts has hosted an International Week during which the university's international offers and services around the internationalization of studies and teaching were presented.
Zur deutschen Version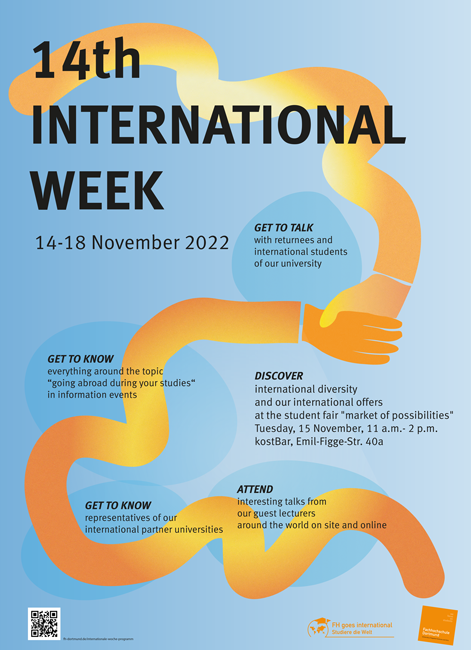 Review of the 14th International Week (14-18 November 2022)
In the previous two years, the International Week took place digitally under the motto "online instead of cancelled" due to the covid pandemic. In November 2022, the event coulbe be launched in a hybrid concept as a mix of face-to-face and online sessions. The almost 30 events by the respective faculties, our international projects and the International Office included a varied mix of information events around studying abroad as well as taster courses, exhibitions and an international student fair, our "marketplace of opportunities" in the student restaurant kostBar.
During the fair, the students could experience the university's international diversity at cultural exhibition stalls and in exchange with returnees who shared their experiences abroad. At the stalls of the individual university faculties, the International Office and external exhibitors, students received information about studying abroad and an overview of the respective international activities.
In addition, subject-specific lectures by international guest speakers offered an exciting view beyond the horizon: A total of 19 speakers from twelve countries worldwide made international and intercultural topics tangible in their lectures: directly on site at Fachhochschule Dortmund and online, presented from Australia, Japan, China and Mongolia. These events were explicitly open to be attended by both students and staff as well as external interested parties.
The feedback from the faculties involved in the hybrid format was throughout positive. By being open to all interested parties, the digital events enabled a cross-departmental exchange and offered a wide range of new international connections.